☆Anti-Metabolic Syndrome Recipe vol.7☆
2009年 10月 08日
This month, we introduce you the vegetarian recipe that use lots of seasonal vegetable for Anti-Metabolic Syndrome. These Japanese style recipes go well with Japanese sake and White wine.
1. Stir-fry with edible chrysanthemum and tofu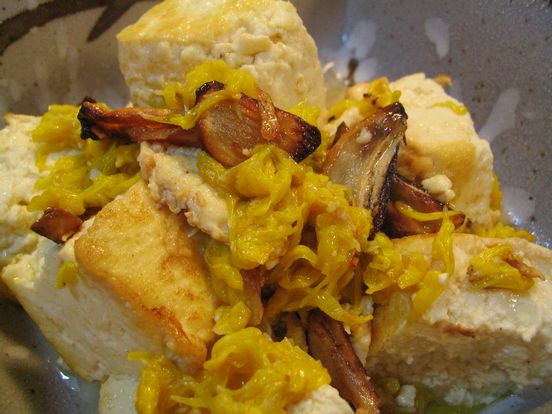 There are so many colors of chrysanthemum in fall of Japan.
So we can use edible chrysanthemum for Autumn Japanese dishes. This stir-fry is very simple, and it's flavored with olive oil and garlic, so you can enjoy it with Japanese sake and white wine.
Edible chrysanthemum effects on;
Release hot flash, For antifebrile and release hyperemia of eyes.
Fit for exhausted eyes that overwork with PC at long autumn night!
2.Japanese style caponata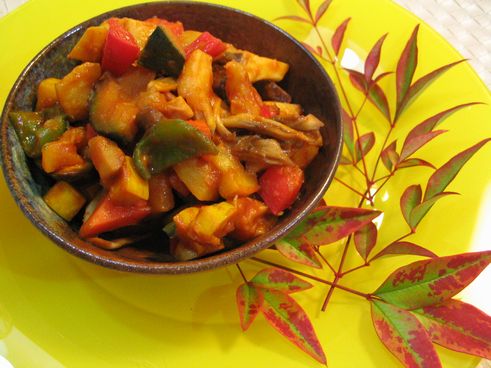 Caponata (Sicilian: capunata) is a Sicilian aubergine dish, a cooked vegetable salad made from chopped fried eggplant and celery seasoned with sweetened vinegar.
However this Japanese style caponata use autumn seasonal vegetables and flavored with
Red-miso and tomato sauce and curry powder. So these flavors bring out sweetness of vegetables.
One of ingredient with seasonal vegetable is taro. Taro effects on;
Anti-aging, reduce high blood pressure and hypercholesteremia, release constipation
Taro is the best ingredient which makes you more healthy autumn life.
3. Mixed mushrooms rice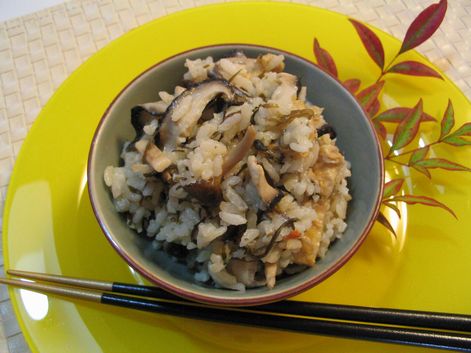 In an autumn season, there are so many kinds of mushrooms at market place.
Above all, Shiitake mushroom is main ingredient of Japanese style recipe.
Shiitake mushroom effects on;
Anti-cancer, reduce high blood pressure and hypercholesteremia
Only adding cutting- kelp with mushrooms, you will not need soup stock, so you can make this recipe very quickly. Please enjoy your own version of ingredients for mushrooms rice again and again!
Here is the schedule of these cooking lessons as follows;
11th of October(SUN), 25th of October(SUN):a.m.11:00~p.m.16:00
Place:SUITENGUU-MAE( TOKYO METRO HANZOMON LINE)
Fees:8,000Yen
    (This fees is including the cost of as follows;
3recipes as above, refreshments, wine or Japanese sake, cheese, dessert, tea)
As we provide each of session at SUITENGUU-MAE( TOKYO METRO HANZOMON LINE) normally, but from this month, we can provide you the delivery lessons for your home kitchen if you have more than 2 attendance of same session. Please enjoy your special home lesson!(Only for the first attendance, we do not ask for transportation expenses, just ask for session's fee.)
Available dates are stated on each description of lessons, but also on this month, we can provide you the delivery lessons at national holiday (12th of October).
We look forward to hearing from you as soon as possible by e-mail as address follows;
info@happy-com-school.com
You can also see the Home page of C's cooking as address follows;
http://www.happy-com-school.com