☆Anti-Metabolic Syndrome Recipe vol.9☆
2009年 12月 09日
This month, we introduce you New Year's Dishes that use lots of seasonal vegetable and fruit for Anti-Metabolic Syndrome. These Japanese style recipes go well with Japanese sake and White wine!
1. Chicken fillets and Satsuma with Mustard dressing.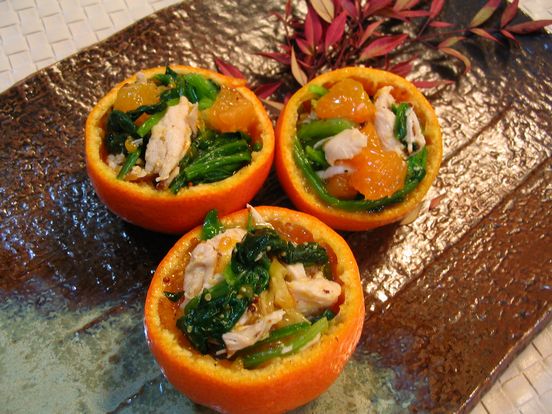 Hollowing a flesh out of Satsuma(mandarin orange) and its skin use for vessel. It is just like winter recipe and suitable for New Year's Dishes !
Sprinkle with white wine on breast fillets, and heat up in a microwave, and break up it into pieces, then it will be ready.
Make Mustard dressing with whole-grain mustard, juice of Satsuma, and Olive oil, and toss with breast fill, and serve into skin vessel!
This easy and handsome recipe is suit for hors d'oeuvre of New Year's Dishes! It is good for a dish eaten with sake or White wine also.
2.Capelin, pickled in vinegar flavored with chili and onion.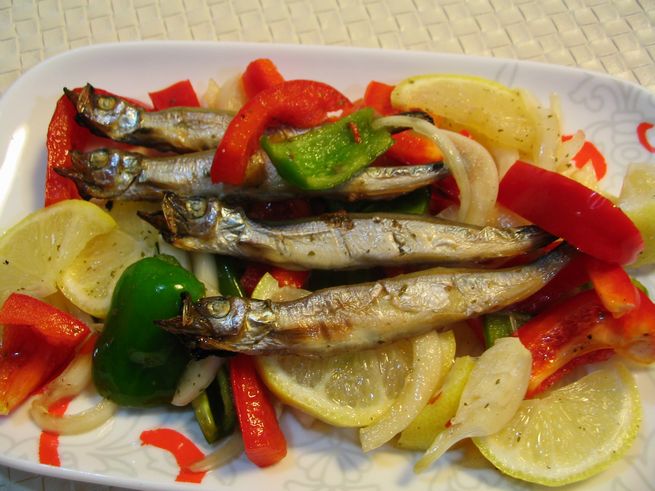 Cut colorful vegetables, such as Red and Yellow and Green peppers and dipped with broiled capelin into vinegar flavored with chili, onion and sliced lemon. Sliced lemon flavor will remove odor left by capelin, and nice flavor of capelin penetrate into vegetables.
It goes well Sake very much! We recommend that to add this recipe for New Year's Dishes, because New Year's Dishes become to lack of vegetables.
3.Rolled omelet with vegetables and crabmeat.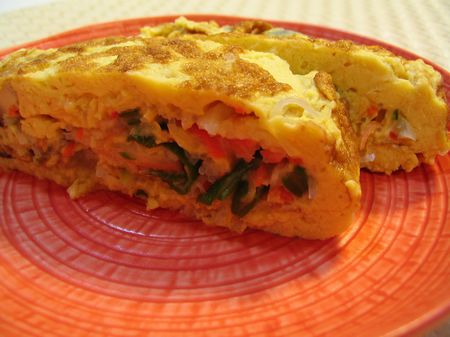 Carrot, bean-starch vermicelli, string bean and crabmeat make Rolled omelet colorful and healthy!
Boiled ingredients, cut into fine chopping, mix well egg mixture, so it will be easy way to make soft rolled omelet.
You will enjoy the sweetness from vegetables and crabmeat!
Here is the schedule of these cooking lessons as follows;
1.20th of December (SUN):p.m. 17:00~p.m.21:00
2. 23rd of December(SUN):a.m.10:00~p.m.15:00
Place:SUITENGUU-MAE( TOKYO METRO HANZOMON LINE)
Fees:8,000Yen
    (This fees is including the cost of as follows;
3recipes as above, refreshments, wine or Japanese sake, cheese, dessert, tea)
As we provide each of session at SUITENGUU-MAE( TOKYO METRO HANZOMON LINE) normally, but from this month, we can provide you the delivery lessons for your home kitchen if you have more than 2 attendance of same session.
Please enjoy your special home lesson!(Only for the first attendance, we do not ask for transportation expenses, just ask for session's fee.)
Available dates are stated on each description of lessons.
We look forward to hearing from you as soon as possible by e-mail as address follows;
info@happy-com-school.com
You can also see the Home page of C's cooking as address follows;
http://www.happy-com-school.com