☆Anti-Metabolic Syndrome Recipe vol.10☆
2010年 02月 05日
This month, we introduce you simple recipes, but look like very gorgeous dishes, suitable for St. Valentine's recipe!
1. Spaghetti with Oyster and Rocket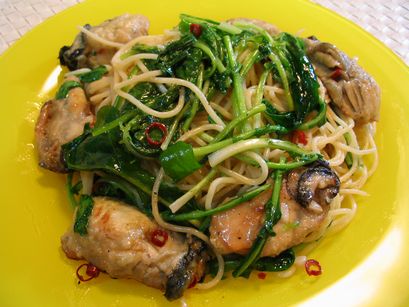 From September to February, Oyster becomes into the best season! And its nourishment is various Amino acids, Vitamins, and Minerals.
Above all, Taurine is of much note. Taurine is one of Amino acid, and is needed for proper maintenance and functioning of skeletal muscles. There is also evidence that taurine is beneficial for adult human blood pressure and possibly, the alleviation of other cardiovascular ailments.
This recipe is very easy, so it is suitable for beginners!
2. Pot pie with vegetables stew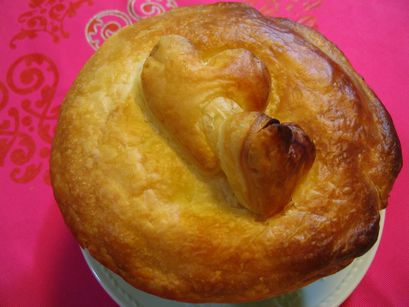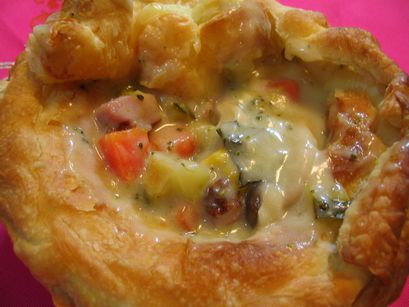 The inside of pot pie is vegetables stew with white sauce. Cut vegetables and bacon into dice, and stew it, and add white sauce which is use milk instead of fresh cream, for cutting off its calories.
On the top of pot pie, we use frozen pastry sheet, so very easy to wrap vegetable stew, and look like gorgeous French restaurant's menu!
One of ingredient of vegetables stew, broccoli is seasonal vegetable in winter and summer.
So seasonal broccoli, which is growing out doors becomes very sweet. Broccoli is high in vitamins C, K, and A, as well as dietary fiber; it also contains multiple nutrients with potent anti-cancer properties, such as diindolylmethane and small amounts of selenium.
Frozen pastry sheet in the shape of a heart decorate a top of pot pie, it is your hot message to your sweet heart!
Here is the schedule of these cooking lessons as follows;
1.7th of February (SUN):a.m.10:00~p.m.15:00
2. 14th of February(SUN):p.m. 16:00~p.m.20:00
Place:SUITENGUU-MAE( TOKYO METRO HANZOMON LINE)
Fees:7,000Yen
    (This fees is including the cost of as follows;2recipes as above, White wine, dessert, tea)
As we provide each of session at SUITENGUU-MAE( TOKYO METRO HANZOMON LINE) normally, but from this month, we can provide you the delivery lessons for your home kitchen if you have more than 2 attendance of same session. Please enjoy your special home lesson!(Only for the first attendance, we do not ask for transportation expenses, just ask for session's fee.)
Available dates are stated on each description of lessons.
We look forward to hearing from you as soon as possible by e-mail as address follows;
info@happy-com-school.com
You can also see the Home page of C's cooking as address follows;
http://www.happy-com-school.com