A hot pot recipe for Saint Valentine's Day!
2010年 02月 05日
For this month, we provide you special plan for Saint Valentine's Day, using king of winter vegetable, that is Chinese cabbage, and it is very easy recipe!
Millefeuille hot pot (Chinese cabbage, Pork rib, Salmon), "Fondue au Fromage" style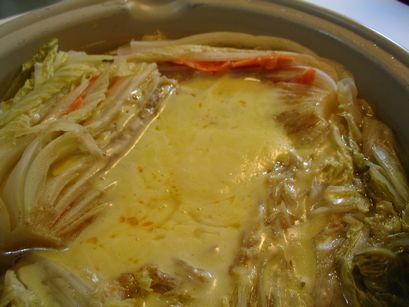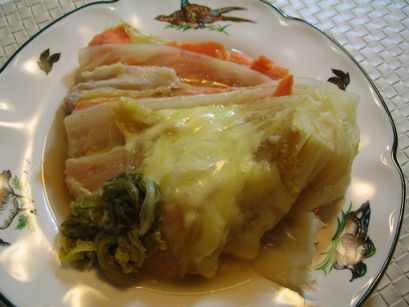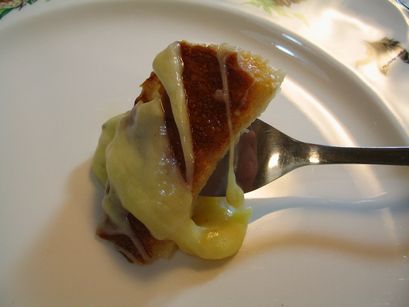 This millefeuille hot pot is very easy recipe that lay Salmon on Chinese cabbage leaves, and go through as same way of pork rib, and steam by hot pot, and finally add melt cheese.
Let's eat like as Fondue au Fromage with baguette, and eat while piping hot!
Chinese cabbage is rich in Vitamin C, Calcium, Iron and Carotene. Especially its core part contains a lot of food stuff. In the winter season, Chinese cabbage is useful ingredient of warming yourself, such as prevention and the rudiments of a cold.
Enjoy this millefeuille hot pot with your dear, for warming your heart and body !
Here is the schedule of these cooking lessons as follows;
1.7th of February (SUN):p.m.16:00~p.m.20:00
2.14th of February (SUN):a.m.11:00~p.m.15:00
Place:SUITENGUU-MAE( TOKYO METRO HANZOMON LINE)
Fees:7,000 yen(This fees is including the cost of as follows;
baguette, White and Red wine, dessert, tea )
As we provide each of session at SUITENGUU-MAE( TOKYO METRO HANZOMON LINE) normally, but from this month, we can provide you the delivery lessons for your home kitchen if you have more than 2 attendance of same session. Please enjoy your special home lesson!(Only for the first attendance, we do not ask for transportation expenses, just ask for session's fee.)
Available dates are stated on each description of lessons.
We look forward to hearing from you as soon as possible by e-mail as address follows;
info@happy-com-school.com
You can also see the Home page of C's cooking as address follows;
http://www.happy-com-school.com