☆Anti-Metabolic Syndrome Recipe vol.12☆
2010年 04月 15日
At this month, Anti-Metabolic Syndrome Recipe coming to twelve times, this means one year's anniversary !!We will continue to introduce you healthy recipe from
now onward.

1. Steamed spring clams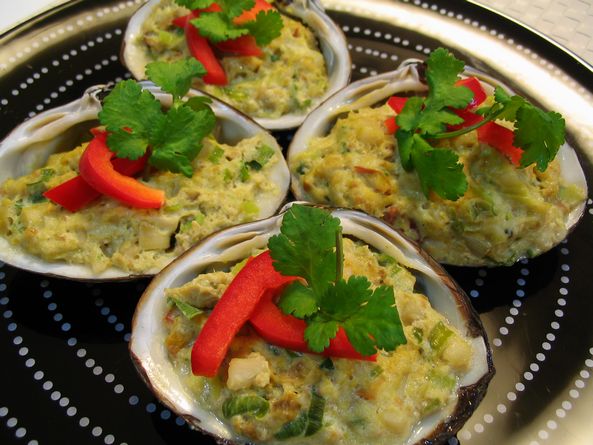 Spring is the best season for clams; especially surf clam is becoming big
among spring clams.
We use big shells for dishes. And all ingredients (scallop, ginger, green onion, minced pork) which mixing vigorously put on these shells, and then steam them in a steamer.
Regarded as a fortunate welcoming dish with clam in Japan, especially at spring party!
Surf clams contain a lot of iron for preventing anemia, and also are rich in taurine
for preventing high blood pressure. Taurine is good for improvement of liver
disease and arteriosclerosis. So it would like to say that clams are suitable ingredients for Anti-Metabolic Syndrome Recipe!
2.Egg spring roll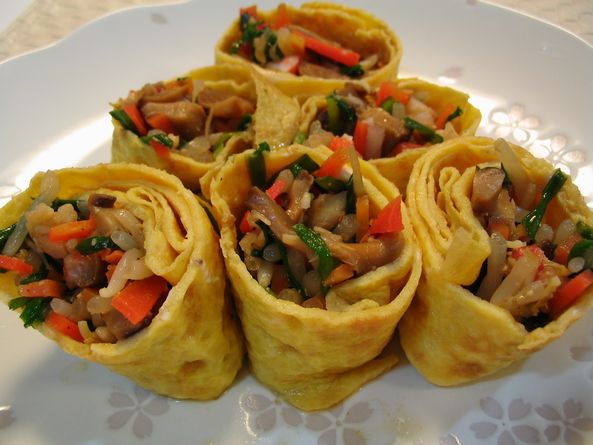 Wrap a lot of simmered vegetables with egg sheet, which cooked thinly, like a spring roll.
By using egg it become satisfied in taste, even if it is using only vegetables,
and become low-calories.
One of ingredient, dried mushroom contains a lot of Vitamine12, which is preventing high blood pressure. Also dried mushroom is so low-calories, that suitable ingredient for Anti-Metabolic Syndrome Recipe!
Here is the schedule of these cooking lessons as follows;
1. 18th of April (SUN):a.m.11:00~p.m.16:00
2. 25th of April(SUN):a.m.11:00~p.m.16:00
Place:SUITENGUU-MAE( TOKYO METRO HANZOMON LINE)
Fees:7,000Yen
    (This fees is including the cost of as follows;2recipes as above, White wine, dessert, tea)
As we provide each of session at SUITENGUU-MAE( TOKYO METRO HANZOMON LINE) normally, but from this month, we can provide you the delivery lessons for your home kitchen if you have more than 2 attendance of same session.
Please enjoy your special home lesson!(Only for the first attendance, we do not ask for transportation expenses, just ask for session's fee.)
Available dates are stated on each description of lessons.
We look forward to hearing from you as soon as possible by e-mail as address follows;
info@happy-com-school.com
You can also see the Home page of C's cooking as address follows;
http://www.happy-com-school.com