☆Anti-Metabolic Syndrome Recipe vol.16☆
2010年 08月 10日
If you worry about no losing weight, even though you suffer from summer heat, these 2 recipes are recommendatory for you!
By using seasonal summer vegetables, these recipes are low calories and being healthy!
1. Dried curry pasta with seasonal summer vegetables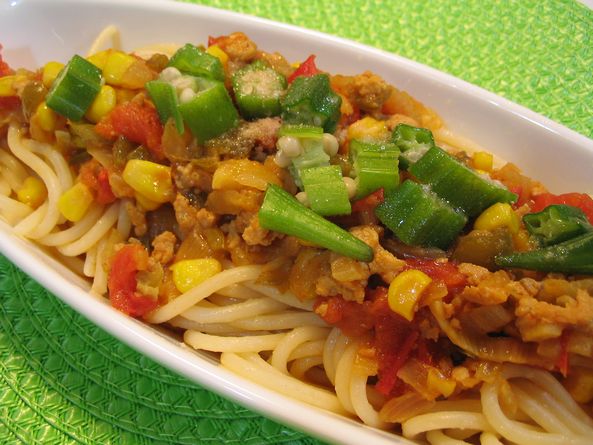 If you are losing your appetite by heat exhaustion, you can be a good eater with this curry!
Seasonal summer vegetables (tomato, sweet corn, and okra), mincemeat of chicken and soy sauce make this curry plain but spicy!
Tomato is 19kcal/100g, it is low calories! A bright red color of tomato is Lycopene, and Lycopene has been considered a potential agent for prevention of some type of cancers.
Also Lycopene has 2 times of β-carotene on its antioxidant activity.
This dried curry goes well with rice also!
2.Cold tofu with Okura potage(SURINAGASHI)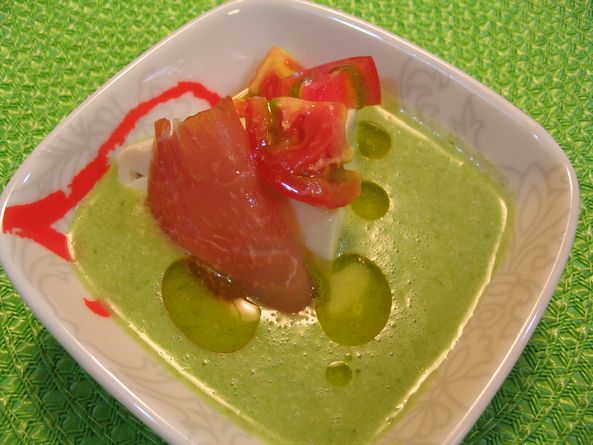 SURINAGASHI is one of traditional Japanese cold soup. At this time, okra SURINAGASHI made of okra puree and consommé soup.
Pour vivid green SURINAGASHI on cold tofu and sprinkle red fruit tomato, uncured hum, and extra virgin olive oil, and then it becomes a nice Italian dish!
The place of origin of okra is Africa. Okura is rich in β-carotene, VC, Calcium, and Iron.
Sticky texture of okra has effective for intestinal disorders.
This Italian SURINAGASHI goes well cilled white wine!
Here is the schedule of these cooking lessons as follows;
29th of August (SUN) :11:00~p.m.15:00
Place:SUITENGUU-MAE( TOKYO METRO HANZOMON LINE)
Fees:7,000Yen
    (This fees is including the cost of as follows;2recipes as above, White wine, dessert, tea)
* At this month, we offer you the special plan that if you have more than 2 attendance of same session, we reduce the session's fee by 500 yen, and give a hand towel for small present!!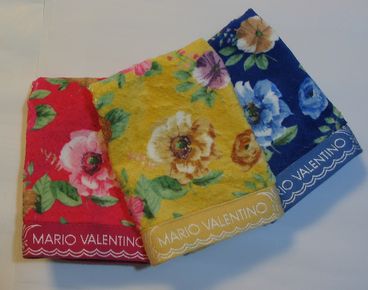 As we provide each of session at SUITENGUU-MAE( TOKYO METRO HANZOMON LINE) normally, but from this month, we can provide you the delivery lessons for your home kitchen if you have more than 2 attendance of same session. Please enjoy your special home lesson!(Only for the first attendance, we do not ask for transportation expenses, just ask for session's fee.)
Available dates are stated on each description of lessons.
We look forward to hearing from you as soon as possible by e-mail as address follows;
info@happy-com-school.com
You can also see the Home page of C's cooking as address follows;
http://www.happy-com-school.com