☆Anti-Metabolic Syndrome Recipe vol.18☆
2010年 10月 18日
At this month, we introduce you 2 recipes of Japanese style, and good for Halloween party's menu!
1. Pumpkin balls of tea napkin bag style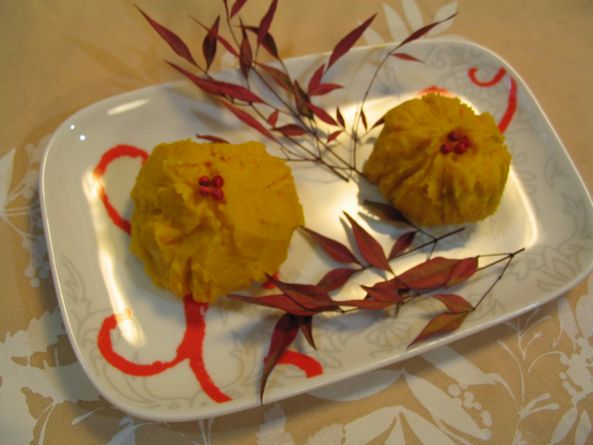 We make pumpkin balls, inside is simmered minced chicken of seasoning with honey, ginger, and soy sauce. Tastes of these pumpkin balls are similar to pumpkin croquettes, but these pumpkin balls are not fries, so these calories are fewer.
Pumpkin ball suits with hors d'oeuvre for Halloween party, and goes well with dry white wine!
Pumpkin is rich in VE andβ-carotene, which is Anti-oxidizer, is prevention for arteriosclerosis.
Also β-carotene is in cooperation with VE, prevents from getting cancer, and catching a chill.
This recipe is cooked with microwave oven, so it will be good for beginners!
2.Spaghetti with Japanese mushroom soup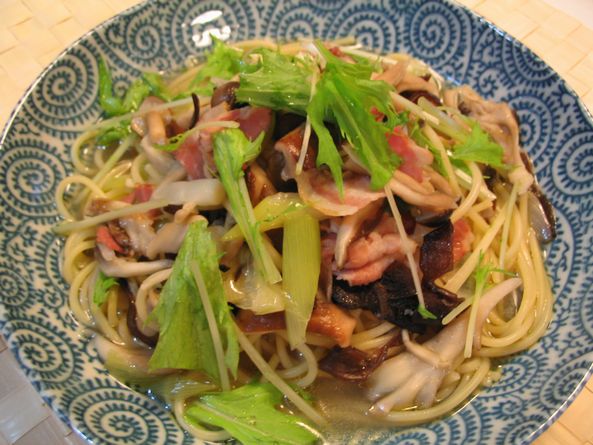 By using some kinds of mushrooms, bacon, and green onion, this mushroom soup is becoming Japanese flavor. But adding Extra Virgin Olive Oil for rich flavor, this spaghetti soup like an Italian dish!
Topping with Mizuna is also producing Japanese style. Mizuna is rich in VC, β-carotene, iron,and calcium.
β-carotene and VC are effecting for preventing from osteoporosis and anemia.
This recipe is not need of long cooking time, so you can cook in the interval of Halloween party!
Here is the schedule of these cooking lessons as follows;
23rd of October (SAT): p.m.19:00~p.m.21:00
24th of October (SUN): p.m.16:00~p.m.19:00
Place:SUITENGUU-MAE( TOKYO METRO HANZOMON LINE)
Fees:7,000Yen
    (This fees is including the cost of as follows;2recipes as above, White wine, dessert, tea)
* At this month, we offer you the special plan that if you have more than 2 attendance of same session, we reduce the session's fee by 500 yen.
As we provide each of session at SUITENGUU-MAE( TOKYO METRO HANZOMON LINE) normally, but from this month, we can provide you the delivery lessons for your home kitchen if you have more than 2 attendance of same session. Please enjoy your special home lesson!(Only for the first attendance, we do not ask for transportation expenses, just ask for session's fee.)
Available dates are stated on each description of lessons.
We look forward to hearing from you as soon as possible by e-mail as address follows;
info@happy-com-school.com
You can also see the Home page of C's cooking as address follows;
http://www.happy-com-school.com