☆Anti-Metabolic Syndrome Recipe vol.19☆
2010年 11月 11日
On an icy day, we are eager for grilled dishes!
At this month, we introduce you simple recipes that using seasonal ingredients, 3kinds of grilled dishes.
1. Baked carrots with nuts sauce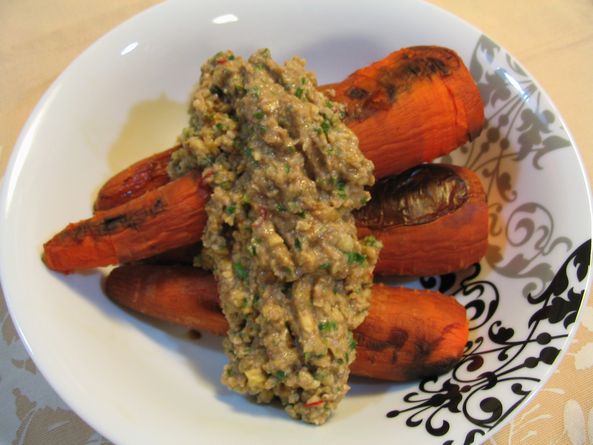 If you encounter with sale of carrots, let's engross all of them!
Fresh and thickish carrots become tender,juicy and sweet after grilled!
Nuts sauce, that made of peanuts, cashew nuts, walnuts and barley miso, is also good for dip of stick saladas.
The carrot gets its characteristic and bright orange colour from β-carotene, which is metabolised into vitamin A in humans when bile salts are present in the intestines.
Carrots are also rich in dietary fibre, antioxidants, and minerals. Lack of Vitamin A can cause poor vision, including night vision, and vision can be restored by adding Vitamin A back into the diet. An urban legend says eating large amounts of carrots will allow one to see in the dark.
2.Carrot rice cake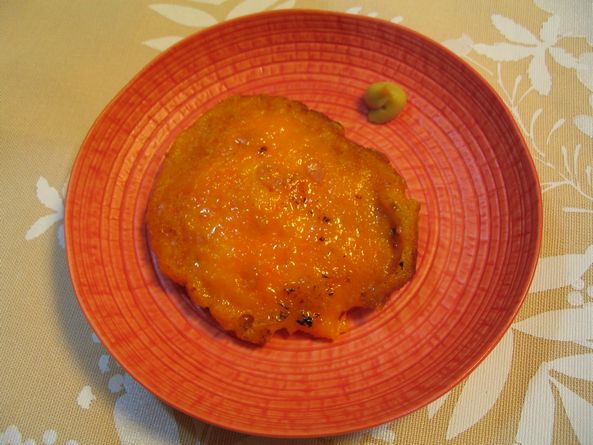 This carrot rice cake made of rice powder and starch. So its chewy taste is good for hors d'oeuver or snack!
If you preserve the dough in a refrigerator, you can keep open house by this carrot rice cake on Beaujolais Nouveau wine party!
3.Joan style with oyster and rocket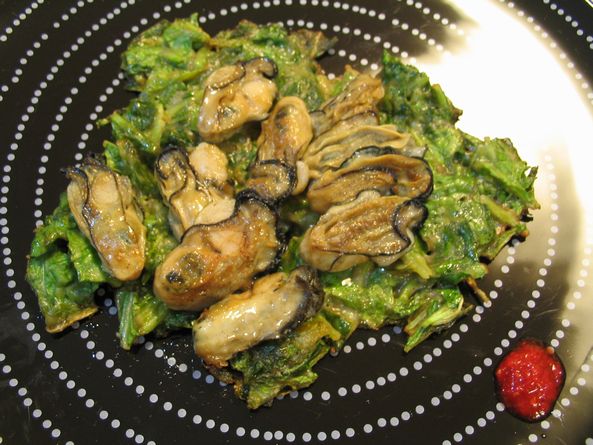 Combination of oyster and rocket is a rich food. A lots of ingredients, fewer paste, we make healthy Jeon!
Jeon refer to many pancake-like dishes in Korean cuisine. Jeon is made with various ingredients such as sliced meats, poultry, seafood, and vegetables depending on the style and mixed with flour batter or coated with egg batter and then pan-fried with oil.
Oysters, especially 'wild', are excellent sources of several minerals, including iron, zinc and selenium, which are often low in the modern diet. They are also an excellent source of Vitamin B12. Oysters are considered the healthiest when eaten raw on the half shell.
Make your 2 dishes choice from 3 above recipes!
Here is the schedule of these cooking lessons as follows;
14th of November (SUN) / 28th of November (SUN): a.m.11:00~p.m.14:00
Place:SUITENGUU-MAE( TOKYO METRO HANZOMON LINE)
Fees:7,000Yen
    (This fees is including the cost of as follows;2recipes as above, Beaujolais Nouveau wine, dessert, tea)
* At this month, we offer you the special plan that if you have more than 2 attendance of same session, we reduce the session's fee by 500 yen.
As we provide each of session at SUITENGUU-MAE( TOKYO METRO HANZOMON LINE) normally, but from this month, we can provide you the delivery lessons for your home kitchen if you have more than 2 attendance of same session. Please enjoy your special home lesson!(Only for the first attendance, we do not ask for transportation expenses, just ask for session's fee.)
Available dates are stated on each description of lessons.
We look forward to hearing from you as soon as possible by e-mail as address follows;
info@happy-com-school.com
You can also see the Home page of C's cooking as address follows;
http://www.happy-com-school.com