Enjoy your Beaujolais Nouveau wine party with home made healthy recipes!
2010年 11月 15日
At this month, we introduce you recommend 3 recipes for Beaujolais Nouveau wine party !!
1.Spice cake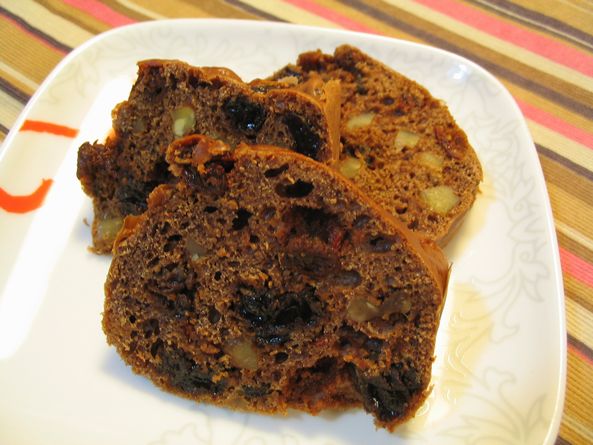 This Spice cake is very simple recipe, but its taste become high grade!
It is the spice magic!
Flavors of grated ginger and cinnamon powder become a powerful punchy taste, and goes well red Beaujolais Nouveau wine.
Also we use many of dried fruits, such as raison or Lyceum Chinese, so there are not using not so many sugar, but its taste is gentle fruity sweet.
Nutmeg is one of spice in this cake, Nutmeg and mace have similar sensory qualities, with nutmeg having a slightly sweeter and mace a more delicate flavour. Mace is often preferred in light dishes for the bright orange, saffron-like hue it imparts.
Nutmeg is used for flavouring many dishes in all countries where it is available.
In originally European cuisine, nutmeg and mace are used especially in potato dishes and in processed meat products; they are also used in soups, sauces, and baked goods. In Dutch cuisine, nutmeg is added to vegetables such as Brussels sprouts, cauliflower, and string beans. Nutmeg is a traditional ingredient in mulled cider, mulled wine, and eggnog.
Japanese varieties of curry powder include nutmeg as an ingredient.
2.Carrots pao de queijo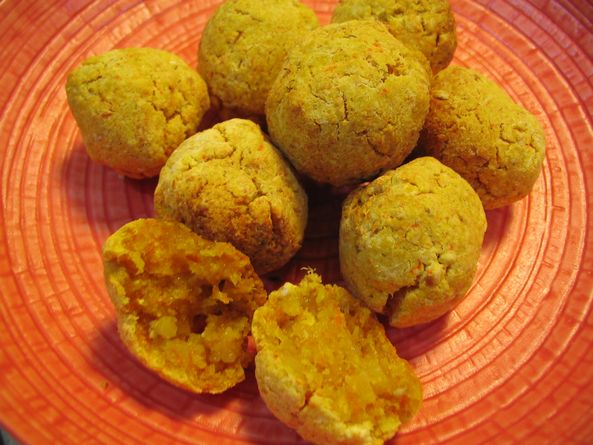 First of all, process bean curd less, starch, rice powder, barley miso,olive oil, and grated carrots in food processor until smooth.
And then make small balls by this dough, finely bake it!
This simple recipe is good for beginners, but this taste of pao de queijo fairly well than trade edition!
Carrot is typify of Green-Yellow vegetables, and contain a lot of β-Carotene.β-Carotene is the more common form and can be found in yellow, orange, and green leafy fruits and vegetables. As a rule of thumb, the greater the intensity of the orange colour of the fruit or vegetable, the more β-carotene it contains.Carotene protects plant cells against the destructive effects of ultraviolet light. β-Carotene is an anti-oxidant.
3.Broccoli and hum soup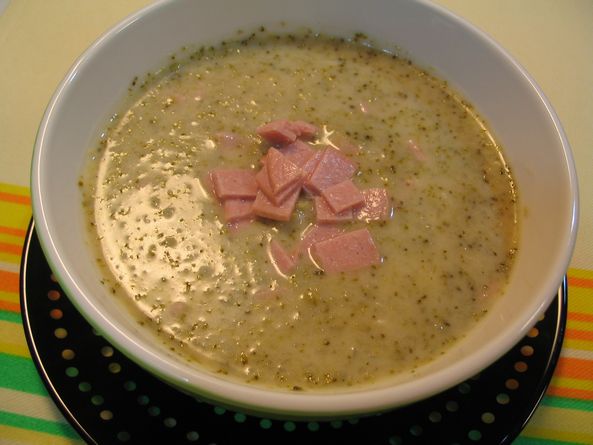 From November to March, it is the best season for broccoli.
A recipe for broccoli and hum soup is similar to potage, so it's very simple.
Original recipe of this soup is adding sour cream, but on this recipe is using cottage cheese instead of sour cream, so its calories become 1/4.
Broccoli is high in vitamins C, K, and A, as well as dietary fiber; it also contains multiple nutrients with potent anti-cancer properties, such as diindolylmethane and small amounts of selenium. A single serving provides more than 30 mg of Vitamin C and a half-cup provides 52 mg of Vitamin C. The 3,3'-Diindolylmethane found in broccoli is a potent modulator of the innate immune response system with anti-viral, anti-bacterial and anti-cancer activity.
Broccoli also contains the compound glucoraphanin, which can be processed into an anti-cancer compound sulforaphane, though the benefits of broccoli are greatly reduced if the vegetable is boiled. Broccoli is also an excellent source of indole-3-carbinol, a chemical which boosts DNA repair in cells and appears to block the growth of cancer cells. Broccoli has the highest levels of carotenoids in the brassica family. It is particularly rich in lutein and also provides beta-carotene.
Make your 2 dishes choice from 3 above recipes!
Here is the schedule of these cooking lessons as follows;
21st of November(SUN)/ 23rd of November(SUN):p.m.11:00~p.m.15:00
Place:SUITENGUU-MAE( TOKYO METRO HANZOMON LINE)
Fees:7,000Yen
    (This fees is including the cost of as follows;2recipes as above, Beaujolais Nouveau wine, dessert, tea)
* At this month, we offer you the special plan that if you have more than 2 attendance of same session, we reduce the session's fee by 500 yen.
As we provide each of session at SUITENGUU-MAE( TOKYO METRO HANZOMON LINE) normally, but from this month, we can provide you the delivery lessons for your home kitchen if you have more than 2 attendance of same session. Please enjoy your special home lesson!(Only for the first attendance, we do not ask for transportation expenses, just ask for session's fee.)
Available dates are stated on each description of lessons.
We look forward to hearing from you as soon as possible by e-mail as address follows;
info@happy-com-school.com
You can also see the Home page of C's cooking as address follows;
http://www.happy-com-school.com