☆Anti-Metabolic Syndrome Recipe vol.20☆
2010年 12月 07日
Every month, we introduce you Anti-Metabolic Syndrome Recipe, but this time, it is coming to 20 times, and being the final class.
And we will introduce you 3 recipes of healthy X'mas party for the final class.
Make your own 2 dishes choice from 3recipes!
1. Soup pasta with red king crab and broccoli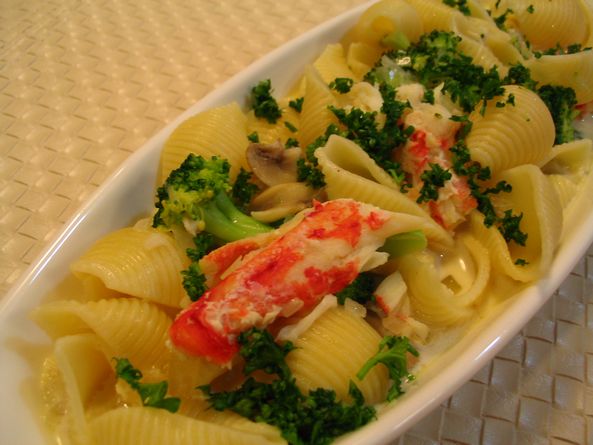 Winter is the best season for red king crab and broccoli, because those tastes are becoming sweet!
By using X'mas colors, red: red king crab, green: broccoli, white: conchiglie (seashells) and cream soup, let's make delicious X'mas pasta for your party guest!
Red king crab contains Astaxantin, that unlike some carotenoids, is not converted to vitamin A (retinol) in the human body. Too much vitamin A is toxic for a human, but astaxanthin has lower toxicity. It is an antioxidant with a slightly lower antioxidant activity than other carotenoids.
Currently, the primary use for humans is as a food supplement. Research shows that due to astaxanthin's potent antioxidant activity, it may be beneficial in cardiovascular, immune, inflammatory and neurodegenerative diseases.
Some research has suggested potential as an anti-cancer agent.Research supports the assumption that it protects body tissues from oxidative damage.
2.Guacamole with shrimp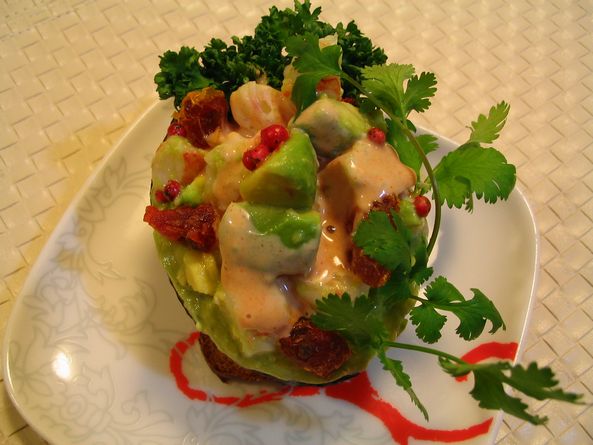 Guacamole is an avocado-based dip which originated in Mexico. It is traditionally made by mashing ripe avocados with a molcajete (pestle and mortar) with salt. Some recipes call for tomato, onion, garlic, lime juice or lemon juice, and/or seasonings.
We use rind of avocados for vessel, and for constrasting woth green colors of avocado, we add red pepper, red dried tomato, and for adding sweet sents, put coriander.
This objet d'art is good for hors d'oeuver of X'mas party!
High avocado intake has been shown to have a beneficial effect on blood serum cholesterol levels. Specifically, after a seven-day diet rich in avocados, hypercholesterolemia patients showed a 17% decrease in total serum cholesterol levels. These subjects also showed a 22% decrease in both LDL (harmful cholesterol) and triglyceride levels and 11% increase in HDL (helpful cholesterol) levels. Additionally a Japanese team synthesised the four chiral components and identified (2R, 4R)-16-heptadecene-1, 2, 4-triol as the natural antibacterial component.
3. Lasagna with root crops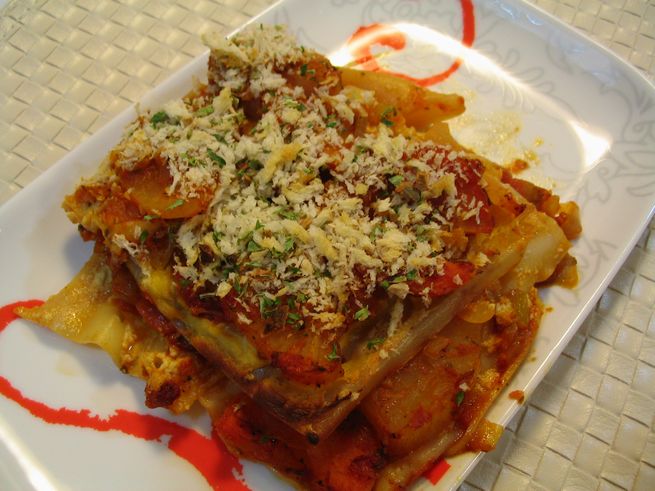 In this recipe, there are many kinds of root crops, and root crops act warming your body.
And this recipe is fewer calories than original Lasagna recipe, because of using Tofu and White Miso paste instead of White cream.
You can enjoy this recipe as standard recipe in winter season. And this Lasagna goes well with Red wine !
Make your 2 dishes choice from 3 above recipes!
Here is the schedule of these cooking lessons as follows;
12th of December (SUN) / 18th of December (SUN): a.m.11:00~p.m.14:00
Place:SUITENGUU-MAE( TOKYO METRO HANZOMON LINE)
Fees:7,000Yen
    (This fees is including the cost of as follows;2recipes as above, wine, dessert, tea)
* At this month, we offer you the special plan that if you have more than 2 attendance of same session, we reduce the session's fee by 500 yen.
As we provide each of session at SUITENGUU-MAE( TOKYO METRO HANZOMON LINE) normally, but from this month, we can provide you the delivery lessons for your home kitchen if you have more than 2 attendance of same session. Please enjoy your special home lesson!(Only for the first attendance, we do not ask for transportation expenses, just ask for session's fee.)
Available dates are stated on each description of lessons.
We look forward to hearing from you as soon as possible by e-mail as address follows;
info@happy-com-school.com
You can also see the Home page of C's cooking as address follows;
http://www.happy-com-school.com