From this month, we introduce you full-course dinner menu, which is cooked with seasonal vegetable.
In commemoration of the first time, we use lotus root, which is the best season in winter.
Lotus root is rich in dietary fiber and starch. Starch is good for your health when you have illness and weakened.
Also lotus root has polyphenol, which has effect of improvement for pollen allergy.
At this time we introduce you 4recepies that are help your health and are delicious!
【Hors d'oeuvre】
1.Sio Kinpira with lotus root and ginko nut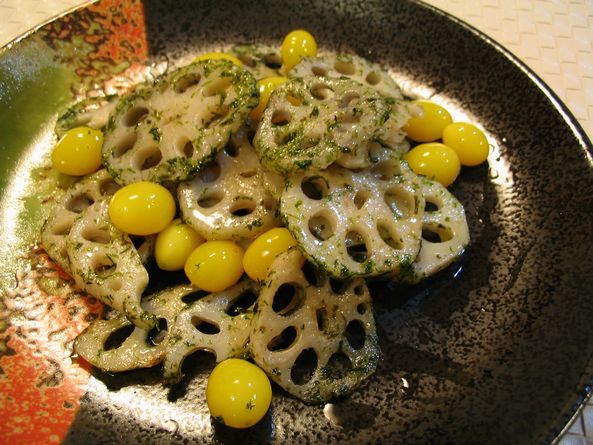 Kinpira is a Japanese cooking style that can be summarised as a technique of "sauté and simmer". It is commonly used to cook root vegetables such as carrot, burdock and lotus root, seaweeds such as arame and hijiki and other foods including tofu and wheat gluten (namafu),and even meat (chicken, pork, beef).
The dish features the use of soy sauce and mirin, as well as often slivered chili peppers.
At this recepi, we use salt instead of soy sauce,for enjoying of original sweetness with lotus root.
You will also enjoy the contrast of color with Aonori's green color and ginko nut's yellow color.
This Kinpira goes well well-chilled beer!
2.Baked lotus root with Tofu and Basil cream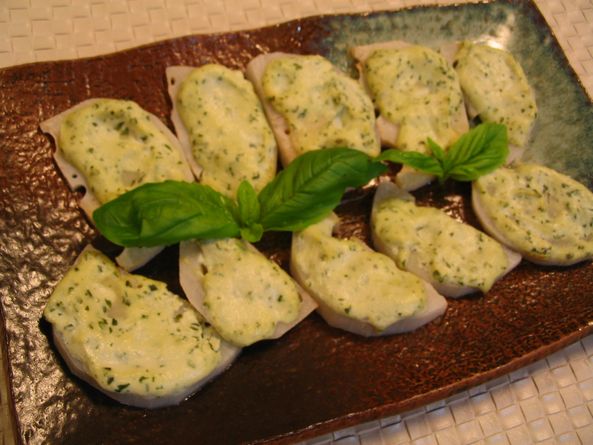 This recipe is so simple!
Only cut a slice with lotus root, and put the Tofu and Basil cream on it, and then bake for 8minutes!
Sweet-scented of Basil goes well slightly chilled white wine!
【The main dish】
3.Vegetation loaf with lotus root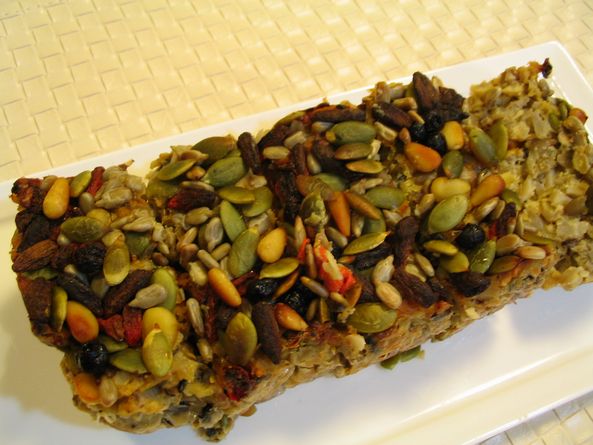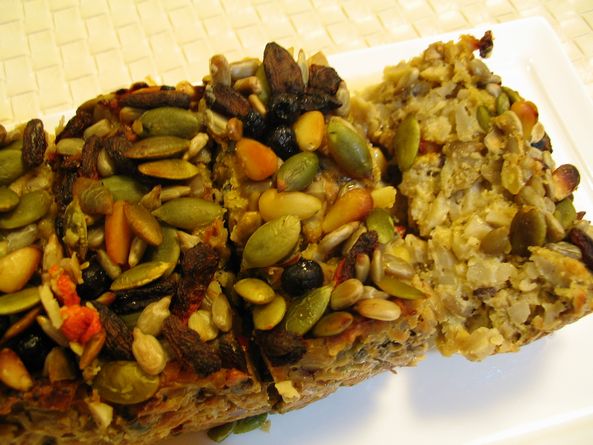 At first, mince an onion and lotus root, and stir-fry with olive oil until becoming tender, and then mix all other ingredients.
You can enjoy of this loaf chewy and crispy mouth feel!
Also you can feel crispy flavor which comes from nuts of topping, and this flavor goes well red wine!
【Pickles】
4.Marinade of lotus root with mustard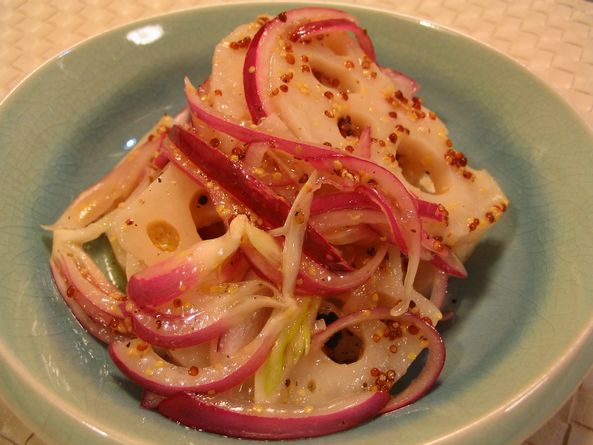 Pickle is the best formula with enjoying crispy mouth feel of lotus root.
Beautiful color of red onion and pop mouth feel with grains of mustard make you becoming to have a hearty appetite, when you have a weak digestion.
Here is the schedule of these cooking lessons as follows;
1.13 th of February (SUN):p.m.17:00~p.m.21:00
2.20th of February (SAT):a.m.11:00~p.m.15:00
Place:SUITENGUU-MAE( TOKYO METRO HANZOMON LINE)
Seasonal vegetable full-course dinner menu Lessons are 4courses as follows; so please select your best one!
3dishes + TEA: 3hours/ 6500Yen
3dishes + WINE: 4hours/ 7000Yen
4dishes + TEA: 4hours/ 7500Yen
4dishes + WINE: 4hours/ 8000Yen
As we provide each of session at SUITENGUU-MAE( TOKYO METRO HANZOMON LINE) normally, but from this month, we can provide you the delivery lessons for your home kitchen if you have more than 2 attendance of same session. Please enjoy your special home lesson!(Only for the first attendance, we do not ask for transportation expenses, just ask for session's fee.)
Available dates are stated on each description of lessons.
We look forward to hearing from you as soon as possible by e-mail as address follows;
info@happy-com-school.com
You can also see the Home page of C's cooking as address follows;
http://www.happy-com-school.com