Introduction for Valentine's day season, the Kokoro nor the body warm, well, to spend the winter of that year a little hot, can easily in C's Cooking Recipes!
1. Pizza Lotus and potherb mustard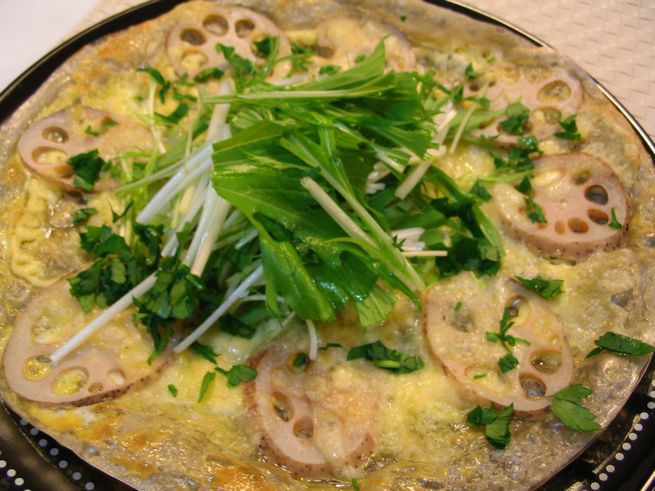 According to Ms. Daughter Kopa (she is one of fortuneteller in JAPAN), this year's lucky food is root vegetables!
On the Valentine's day this year ,we introduce of Lotus, representative of winter root vegetables with easy recipes!
On this pizza dough using the spring roll skin, piled up three beaten eggs and bake for 8 minutes in a gas oven, sprinkle the sliced Lotus root, pizza cheese for completion!
Lotus root with feel and spring roll skin in no longer gone around enjoy crisp flake!
Lotus is rich in vitamin amount equivalent to 1.2 times the mandarin orange included.Vitamin c is weak and heat naturally and heated Lotus root starch quality mainly for is easily decomposed. Vitamin is a nutrient to prevent colds, preventing aging skin and skin help beauty!
2. Cabbage Pie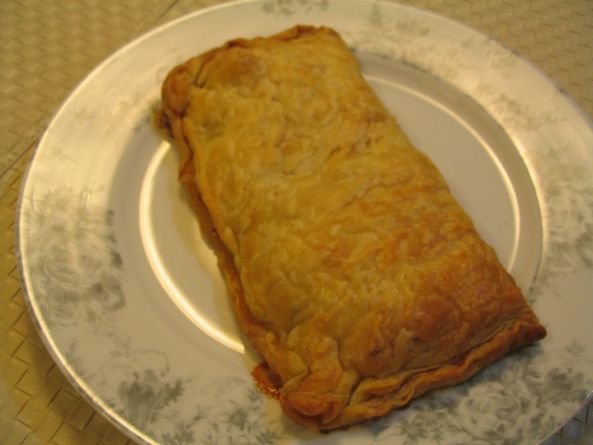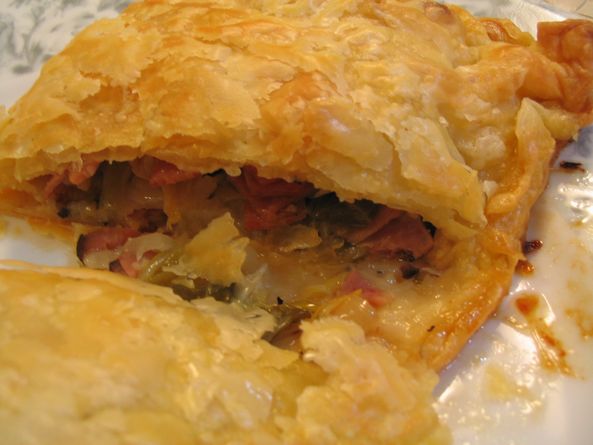 Cabbage and sliced sausage with butter stir, wrapped in pie is baked, just like delicious Cabbage Pie completed!
This recipe is good for beginner!
Cabbage is ideal as a healthy food to support diets rich in dietary fiber.
Cabbage is the ingredients to a boon what diet not only 23 kcal per 100 g.
Vitamin can only eat about 2-3 by far richer, larger leaf, you can cover one day need vitamins and. Vitamin c prevents wrinkles and sagging skin to bane and diet.
Vitamin C, but many well most, such as a vitamin, B1, B2, E, K, niacin, vitamins, minerals, calcium, phosphorus, iron, potassium, magnesium, is included.
3. Rape blossoms of cream soup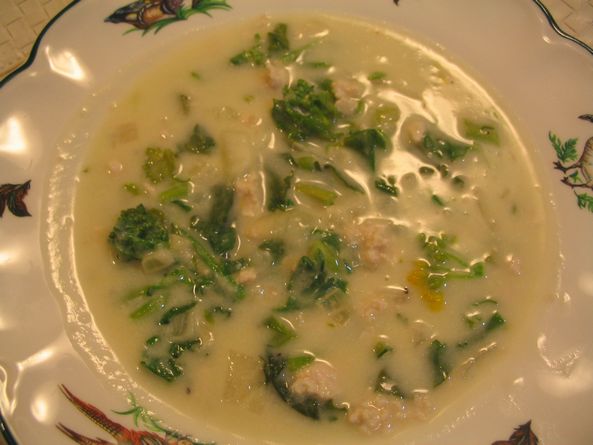 Put ground chicken good digestion rape blossoms, which have a plenty of vitamin, it become healthy soup!
Even if colds and hay fever, no appetite, this soup be a necessity and should drink!
Rape blossoms , including beta-carotene and vitamin, E, K, contains rich and minerals such as potassium, calcium and iron. Contained in cruciferous extracts of sulforaphane, have a distinctive bitter.
Carotene or vitamin increased immune system, and prevent colds and prevent aging vitamin working together makes the skin. Moreover, potassium keep salt balance in the body to prevent high blood pressure.
Adult weekly to advise making come carry it!
Here's cooking course schedule is below!
February 5 (Sunday):
1.11:00-15: 00
2.16: 00 -20: 00
February 11 (Saturday): 13: 00-17:00
February 12 (Sunday): 15:30-19:30
And, training of seasonal recipes, two points out of three, or all three points, or choose wine or tea.
Each training time and training fee is below.
2 + 3 Hour tea: 6,000 yen
2 + 4 Hour wine: 7,000 yen
3 Points and + 4 time tea: 7,000 yen
3 + 5 Hour wine: 8,000 yen
Course venue: Suitengu-mae (TOKYO METRO, Hanzo-mon Line)
And early application is so like only 4 name each session and also to the address below!
info-hcs@juno.ocn.ne.jp
Finally this year and plunge in December, has become a temperature throughout the winter seems to be our care??
Seems to be doing even more time to greet the New Year and East Japan after the earthquake this year, but became a really tough year, sure to bond with people than usual and important year.
It is the good news for peoples who are firmly set on making hand-made OSECHI on this year!
Let's make your own OSECHI, not sold the Department store nor Supermarket, and easy to make this year!
Introducing dividing 12 products came courses annually in C's Cooking here five years, "seasonal recipes" this month's training, and higher popularity of your four boxes of a traditional OSECHI.
[First BOX]:Assorted refreshments
1. Petit rolled with salmon and cucumber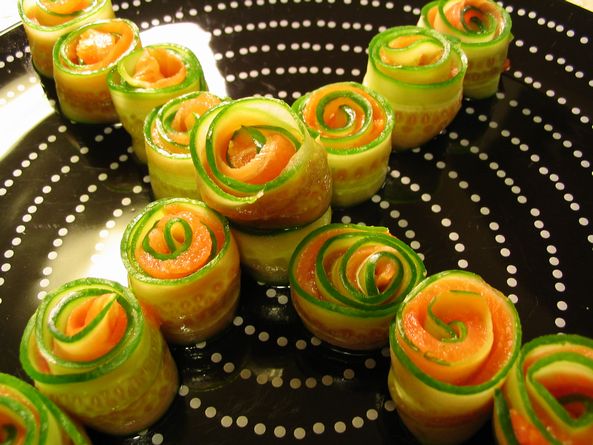 Sliced cucumber, with sliced salmon, colorful and good Assorted refreshments it is!!
This recipe is good for a beginner, because it will be finish quickly!
2. Mayo salmon and salmon roe radish canapes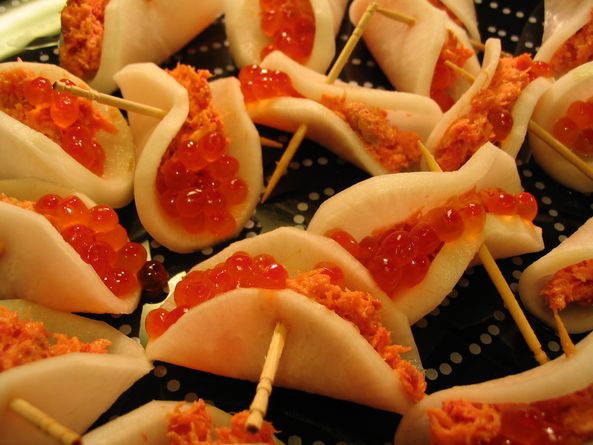 Across the radish was refreshing and mellow flavor salmon Mayo tried to canapés!
Perfect for new year's salmon roe grain sparkle like gems red, and a contrast with red and white radish is suitable for new year's celebration!
3. Egg roll oysters with spinach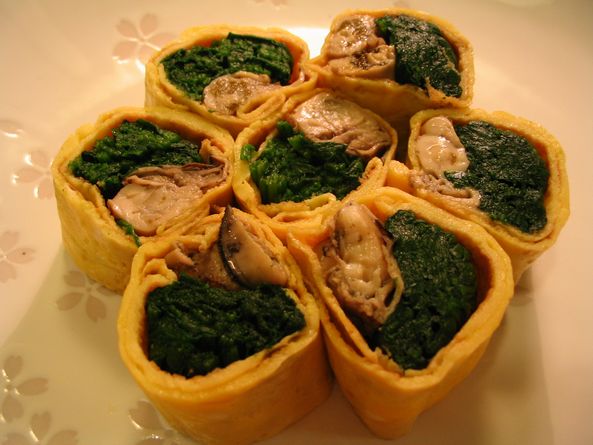 Add sweet winter spinach and oysters millstone baked eggs and has shades of a clean cut.
Because each here, cooking materials so its shelf life is quite long!
[Second Box]: grilled
4.5 Color omelet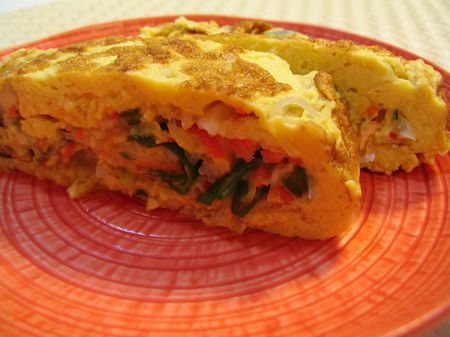 Put carrots, gelatin noodles, field pea and crab's body, it looks brilliant, made eggs baked with plenty of team!
Boil before the material, so it will be finish quickly than normal one, and it use for baking pans is very easy way! Sweetness of the material feel in it, and unique handmade deliciousness!
5. Fill beans baked meat loaf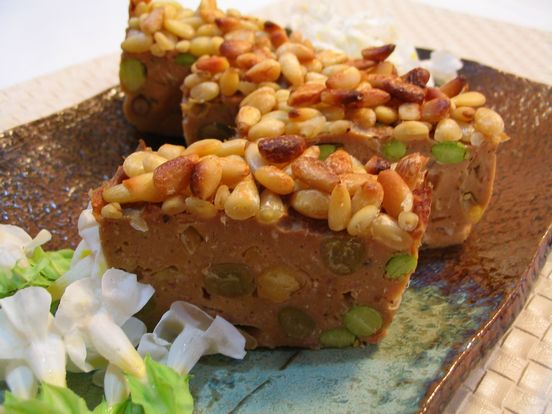 If used beans that you like, such as Edamame, chick pea,etc… and seasoned with red bean paste, it become very healthy meat loaf!
Edamame is good for especially frequently drink alcohol at the year end ! And red bean paste adds the gentle sweetness!
This meat loaf goes well with heavy red wine full-bodied taste!
6. Tuna Mayo stuffed bell peppers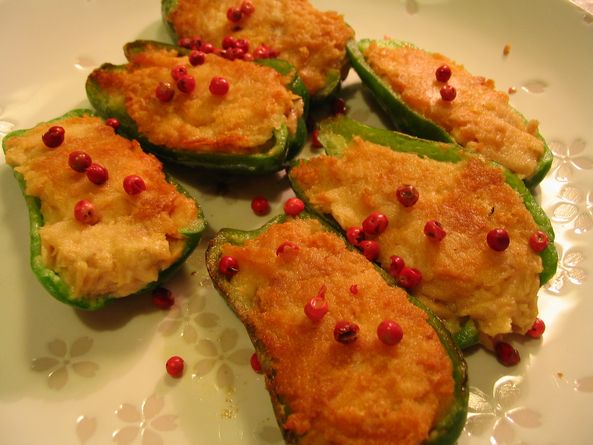 This taste is not only mellow taste of tuna Mayo, but spicery with red pepper, and beginners also make easy!
Is perfect as a Beer-Lover's snacks!
[Third Box]: vinegar
7. Mandarin orange and chicken tenders with Japanese dressing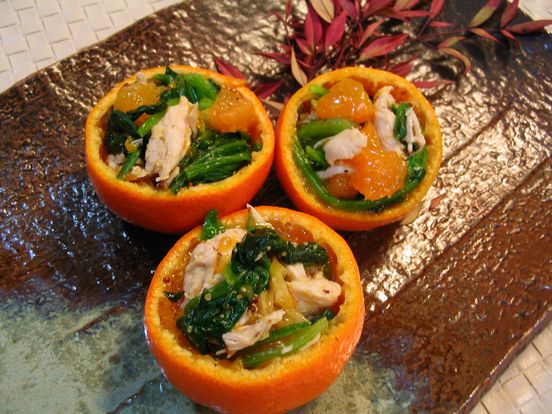 Hollow out of orange contents, use skin as a container, is hospitality winter dish!
Add white wine to white meat of a chicken, and heated in the microwave and just unravel!
Grain with orange juice and mustard sauce and olive oil, made dressing for boils, dress to materials, dishing out instrument voila!
8. Carpaccio of red tuna with Chinese yum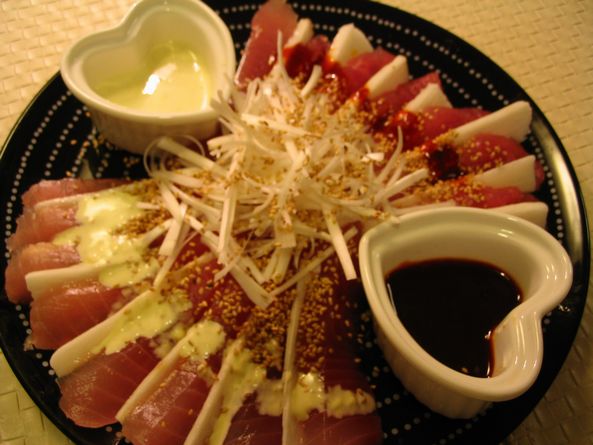 Created a perfect red and white color Carpaccio, seat red tuna and white Chinese yum !
Kochijan dressing is tangy and spicy, and with wasabi dressing, let's enjoy enhanced the tastiest tuna!
9. Citrus sudachi taste of pickled radish and onion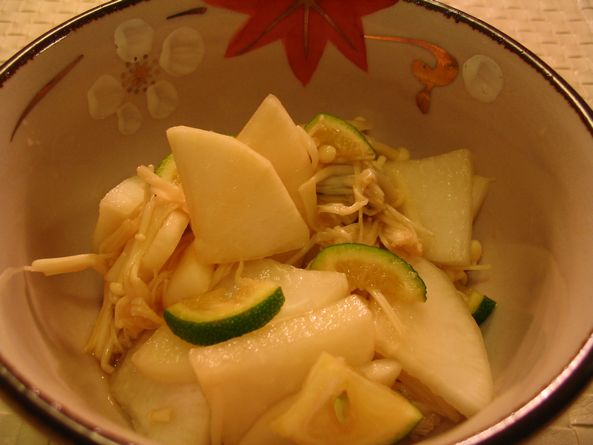 Enjoy the acidity and citrus peculiar refreshing scent, this vinegar is a simple dish to enjoy radishes chewy!
[Fourth box]: casserole
10 Braised garlic pork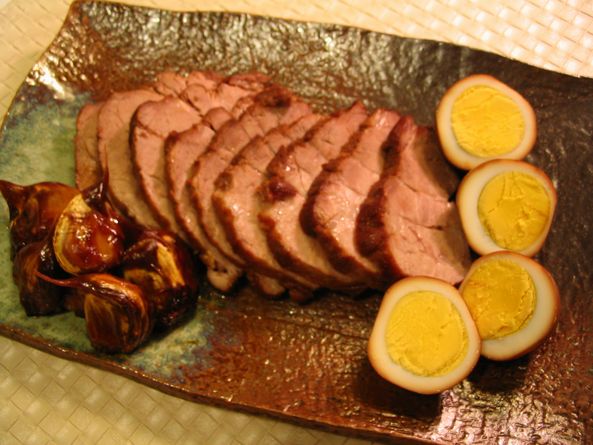 Saturated with a soft sweet taste, juicy pork and garlic , you will not stop chopsticks also drinking!
So can be made in a frying pan, does not fail even for beginners!
11.Simple Bang Bang Ji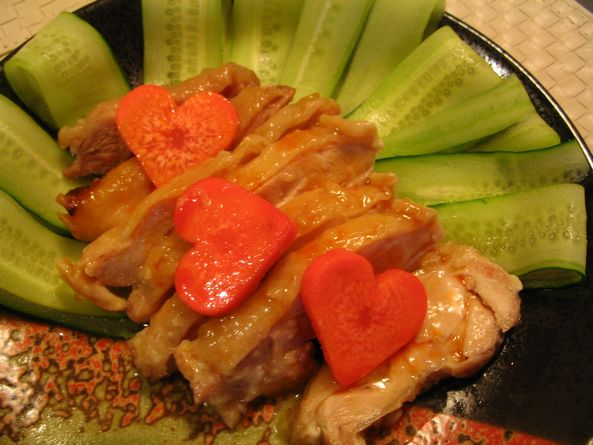 Bang Bang Ji, one of my favorite, so I was making every year end, to celebrate, taste better as high class Chinese restaurant outdone, can be very easy to crack!
Extra to be used, after the OSECHI –by using of ramen and the other noodles of put on eating too GOOD!
12. Italian Furofuki (Simmered)-radish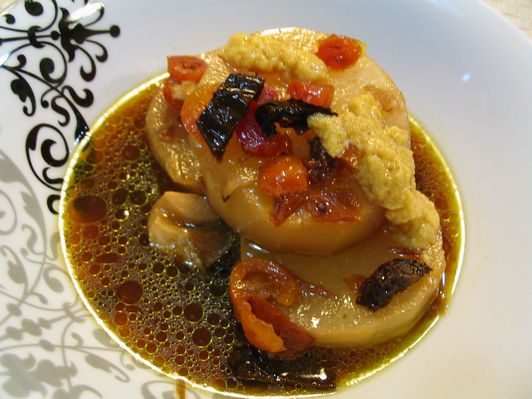 In winter season, radish has getting to increase its sweetness.
Original Japanese Furofuki-radish is simmered radish with boiled water, and served with Miso sauce. But this Italian recipe is, radish stew with dried tomatoes and garlic, and served with Miso and Olive oil sauce.
Dry tomato and garlic make good stock, and the taste of this stock brings out the sweetness of radish.
Let's enjoy Italian and Japanese recipe at your OSECHI!
Here osechi cuisine course schedule is below!
12 / 10 (Saturday): 14: 00-18: 00
12 / 11 (Sunday): 11:00-15:00
12 / 18 (Sunday): 15: 00- 19: 00
12 / 23 (National holidays, Friday): 11:00- 15: 00
With the "Simply-osechi" this year's course, you can choose 3 points out of the recipe above 12 points or, 4 points, wine or tea.
Each training time and training fee is below.
And because we also use as a relief to the stricken area customers of East Japan after the earthquake, each seminar rates this month than usual 1,000 yen each will be reduced.
4 Points + 3 hour with tea: 7,000 yen
4 Points + 4 Hours with wine: 8,000 yen
3 Points + 2 hour with tea: 6,000 yen
3 Points + 3 hour with wine: 6,500 yen
【Course venue】: Suitengu-mae(TOKYO METRO, NANZOMON Line)
And early application is so like only 4 name each session and also to the address below!
info-hcs@juno.ocn.ne.jp
This month, we introduce you simple French recipes, but look like very gorgeous dishes, suitable for St. Valentine's recipe!
1. Hachis Parmentier (Cottage Pie)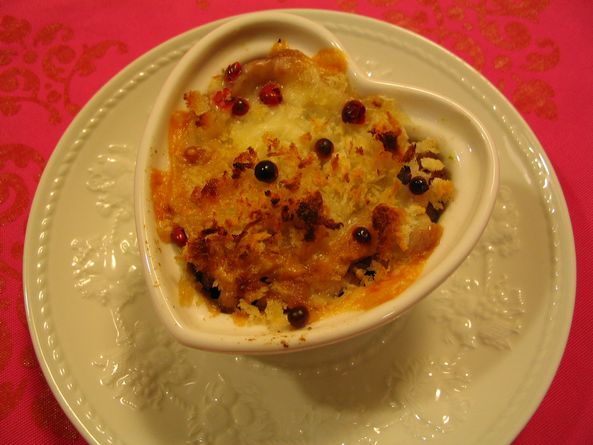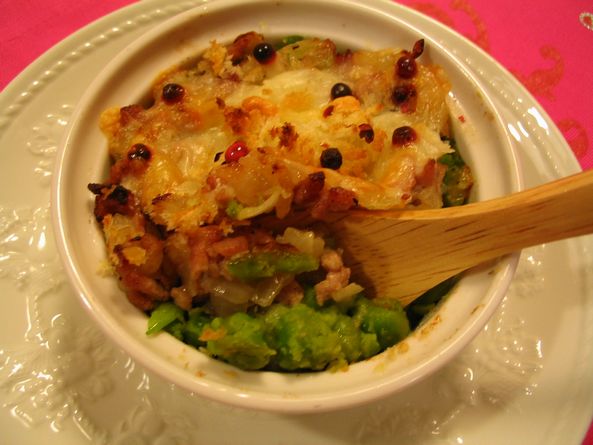 This French delicatessen is called as cottage pie in the U.K.
Cottage pie refers to a British or Irish meat pie made with beef mince and with a crust made from mashed potato. A variation on this dish using lamb mince is known as shepherd's pie.
We make this recipe, adding green peas, and change beef mince for chicken mince to reduce fat.
If you are busy, we recommend you to make this Hachis Parmentier after baking.
This recipe is very easy, so it is suitable for beginners!
2. Red pepper potage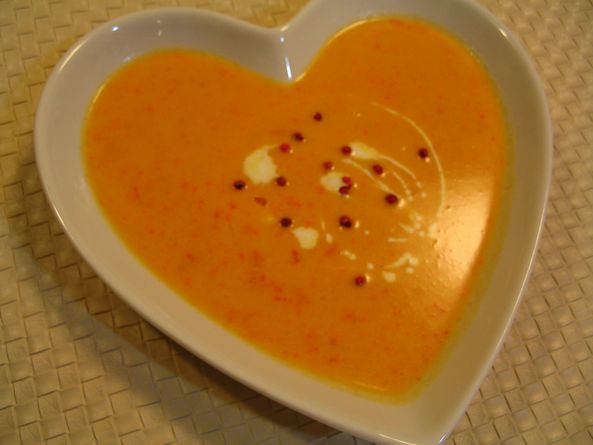 Red peppers are available all the year around at a low price nowadays.
Compared to green peppers, red peppers have more vitamins and nutrients and contain the antioxidant lycopene. The level of carotene, another antioxidant, is nine times higher in red peppers. Red peppers have twice the vitamin C content of green peppers. Also, one large red bell pepper contains 209 mg of vitamin C, which is more than double the 98 mg in one large citrus orange.
This receipe can apply to the other vegetables potage, if you can get to learn the ropes, so let's try it!
3.Grilled chicken with cabbage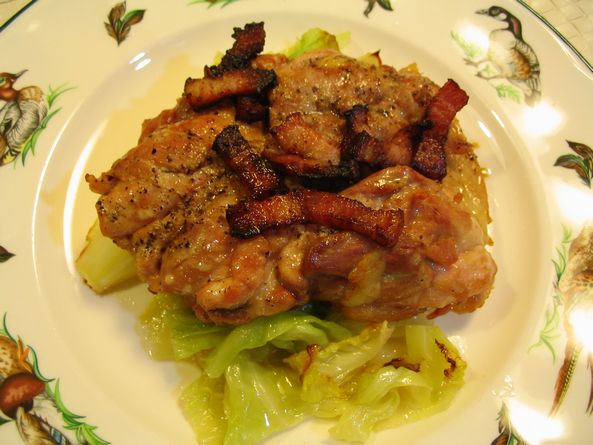 This Grilled chicken with cabbage is famous as local dishes of Pay de la Loire.
This recipe is very simple,but this workmanships is so gorgeous!
You can enjoy your St. Valentine's Day with this piping hot Grilled chicken with your hot partner!
Here is the schedule of these cooking lessons as follows;
1.6th of February (SUN):a.m.11:00~p.m.16:00
2. 11th of February(NH,FRI):p.m. 17:00~p.m.22:00
3. 19th of February(SAT):p.m. 15:00~p.m.20:00
Place:SUITENGUU-MAE( TOKYO METRO HANZOMON LINE)
Seasonal Recipes Lessons are 4courses as follows; so please select your best one!
2dishes + TEA: 3hours/ 6000Yen
2dishes + WINE: 4hours/ 7000Yen
3dishes + TEA: 4hours/ 7000Yen
3dishes + WINE: 5hours/ 8000Yen
As we provide each of session at SUITENGUU-MAE( TOKYO METRO HANZOMON LINE) normally, but from this month, we can provide you the delivery lessons for your home kitchen if you have more than 2 attendance of same session. Please enjoy your special home lesson!(Only for the first attendance, we do not ask for transportation expenses, just ask for session's fee.)
Available dates are stated on each description of lessons.
We look forward to hearing from you as soon as possible by e-mail as address follows;
info@happy-com-school.com
You can also see the Home page of C's cooking as address follows;
http://www.happy-com-school.com