At this year HALLOWWEEN PARTY, let's make homemade pumpkin sweets, and win him/her heart!
1. Pumpkin Mont-blanc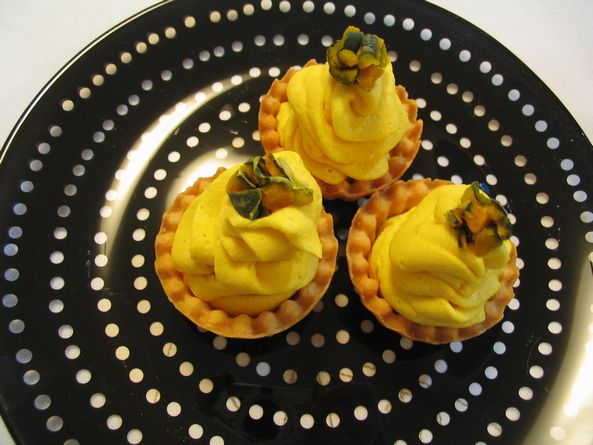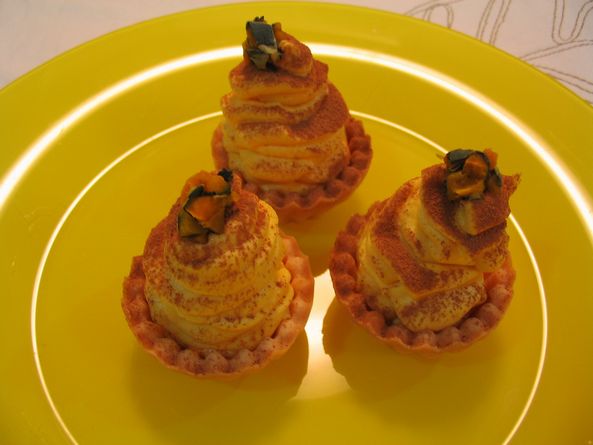 On the first of picture, pumpkin puree with cream cheese is squeezed on small tart.
And the second of picture is topping with cinnamon powder of the first one.
By using baked small tart of commercial one, this recipe becomes very simple, and good for beginners!
This recipe is so plain, but this taste is very rich with pumpkin puree, and cream cheese.
At autumn tea party, this pumpkin Mon-blanc goes well with aromatic earl grey tea!
2. Pumpkin purin pudding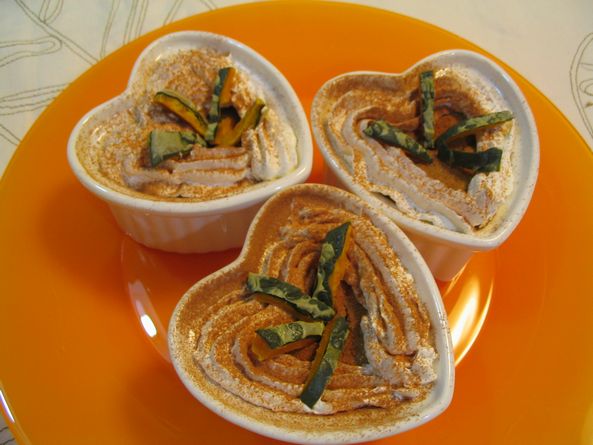 Purin is a Japanese name of Crème caramel.
But this pumpkin purin pudding is rather Western confectionery than Japanese confectionery, because of rich taste with pumpkin puree, cinnamon powder,and fresh cream.
Bittersweet caramel sauce show off this pumpkin purin pudding for rich taste, and topping with whip cream and the skin of pumpkin make it gorgeous looks!
This is the best standard item of autumn sweets!
3.Pumpkin flan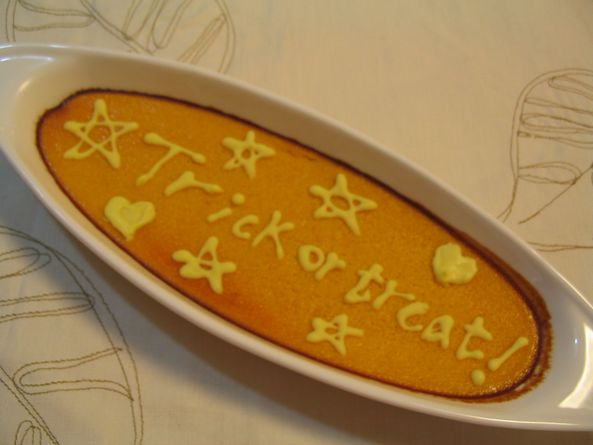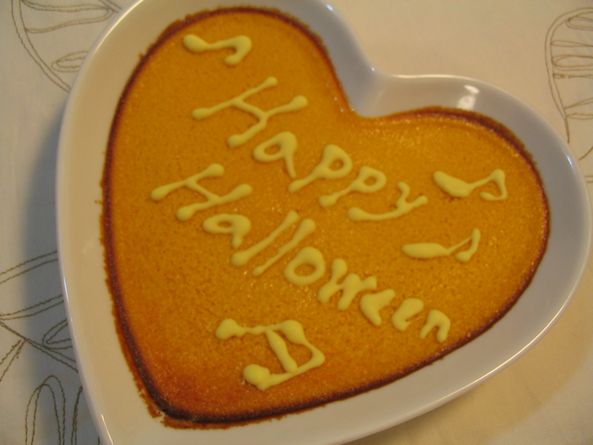 Flan is synonymes with creme caramel, but by adding with almond powder and blandy, it become synonymous with cake.
This pumpkin flan is very simple recipe, but it looks so handsome because of decoration with chocolate pen. You can express your hot mind with heart-warming message on this pumpkin flan!
Here is the schedule of these sweets making lessons as follows;
16th of October (SAT)
1.a.m.11:00~p.m.13:00:Pumpkin purin pudding
2. p.m.17:00~p.m.19:00:Pumpkin Mon-blanc
23rd of October (SAT)
1.p.m.14:00~p.m.16:00:Pumpkin Mon-blanc
2. p.m.17:00~p.m.19:00:Pumpkin Flan
Fees: 5000 yen
* At this month, we offer you HALLOWEEN special plan that if you have more than 2 attendance of same session, we reduce the session's fee by 500 yen.
Place: SUITENGUU-MAE( TOKYO METRO HANZOMON LINE)
As we provide each of session at SUITENGUU-MAE( TOKYO METRO HANZOMON LINE) normally, but from this month, we can provide you the delivery lessons for your home kitchen if you have more than 2 attendance of same session. Please enjoy your special home lesson!(Only for the first attendance, we do not ask for transportation expenses, just ask for session's fee.)
Available dates are stated on each description of lessons.
We look forward to hearing from you as soon as possible by e-mail as address follows;
info@happy-com-school.com
You can also see the Home page of C's cooking as address follows;
http://www.happy-com-school.com